It appears that the crypto industry is increasingly turning to self-regulation as the rope of regulators threatens to tighten firmly around it – and the trend hasn't missed a major decentralized exchange either.
Major crypto derivatives exchange FTX CEO Sam Bankman-Fried announced that the exchange decided to limit the amount of margin-trading debt traders can wager from 100 times leverage to 20 times.
"An effective margin system is integral to an efficient economic system," he said, following that up with: "There are limits to everything, though."
Bankman-Fried went on to say that margin systems must have liquidations as a backup, but with a goal to "do so rarely." At FTX, he says, "way less than a percent of volume comes from margin calls," which is in contrast to some platforms that "are sometimes > 5%, and some which removed data because it looked bad."
Liquidations in the past 24 hours: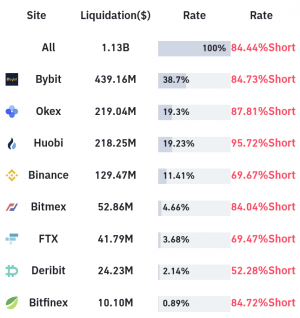 Leveraged trading refers to borrowing funds so that you can take a larger position than you would be able to with your existing funds so that you can potentially generate a higher profit. However, while margin trading enables traders to amplify their returns, it can also lead to increased losses and liquidations, which is why experienced traders tend to advise newcomers to stay away from leveraged trading.
The average leverage used on FTX is some 2x. "And while we think that many of the arguments are high leverage miss the mark, we also don't think it's an important part of the crypto ecosystem, and in some cases it's not a healthy part of it."
Therefore, claims the CEO, removing high leverage (more than 20 times) is a step in the direction the industry has been headed for a while.
"Again, this will hit a tiny fraction of activity on the platform, and while many users have expressed that they like having the option, very few use it. And it's time, we think, to move on from it," he added.
The risky trades offered on FTX, Binance, BitMEX and other exchanges are often blamed for accelerating a market downturn in May.
Clara Medalie, the research lead at Kaiko, a cryptocurrency market data provider in Paris, told The New York Times that "these liquidations are obviously a huge factor in the price crash," and that "it is a vicious cycle."
The price crash automatically prompted the exchanges to liquidate trading positions of the most highly leveraged investors – before their collateral became insufficient to cover their positions.
The high-leverage offerings on FTX are more of a reputational liability as Bankman-Fried looks to expand FTX's global reach, said Timothy Massad, the former chairman of the Commodity Futures Trading Commission.
And another exchange is apparently reacting to the recent regulatory developments. Major crypto exchange Binance said that its futures already started limiting new users to maximum 20 times leverage.
Per the CEO Changpeng Zhao, the move was made on July 19, but the team "didn't want to make this a thingy."
"In the interest of Consumer Protection, we will apply this to existing users progressively over the next few weeks," said Zhao.
Having previously offered a maximum of 125 times, an investment of USD 1,000 could be turned into a bet of as much as USD 125,000 on Binance.
All this, and likely more, is coming as the regulatory pressure from around the world, and particularly the US as of late, is increasing on the fast-developing crypto industry. Binance alone, for example, has been facing regulatory issues in a number of countries.
"It's clear that heavy regulations should be expected. Binance is in the mindset of shifting from a tech startup to a financial service. We are increasing compliance efforts, including ex-regulators," Zhao said during the virtual summit REDeFiNE TOMORROW 2021.
Today, Binance Margin said it will delist AUD, EUR, and GBP cross and isolated margin pairs in August.
(Photo : Archnys)